Every member that supplied an email address should have received an email last night. If you didn't receive it, please check your spam box. If you still didn't receive it, please email member name to [email protected] so that we can continue to update the list.
Stephen Summers
President
---
GRGC has waived Match fees for all female participants at the August 2nd Steel Plate Challenge Match. Gerry Flanagan is Match Director and he runs a very fun, safe, low stress, Match that operates under local rules without being overly competitive. Read the requirements posted on greenrivergunclub.com, but in short Rim Fire or Centerfire handguns are both allowed. Ladies, please come out and enjoy an afternoon of ringing steel with a great group of people at no cost to you other than ammo.
Stephen Summers
President
---
I recently worked with Warren County Planning and Zoning to have an official street address assigned to GRGC. It will take time for maps and GPS services to update it for search purposes, but the official address is:
1718 Price Chapel Rd
Bowling Green KY 42101
The Business address remains 4848 Scottsville Rd. The new address is for locating the club on GPS only.
---
Quite a difference between July 1st and July 17th at the front entrance.
Stephen Summers
President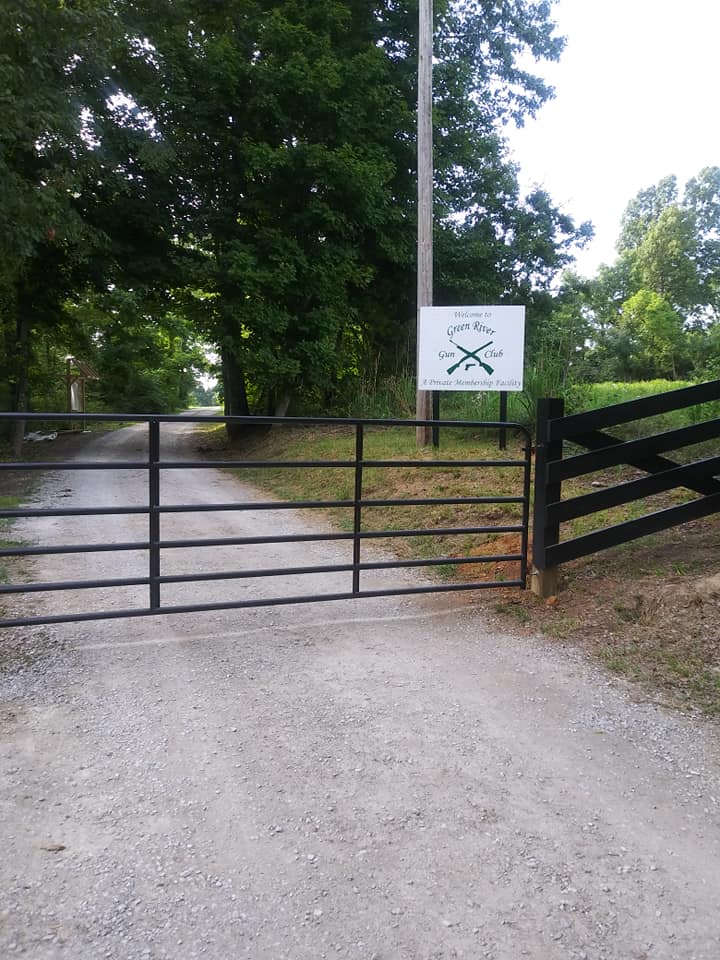 ---
This is recycling/repurposing…on steroids. When the contractor pulled a tall skinny tank out of the trees and brush, the mental wheels started turning. With a great deal of help from some members, we now have the biggest AA Shotshell in the Commonwealth of Kentucky! Special thanks to David Palmer, Ronnie Milam, DHI Contracting and Randy Reece/Nick Kitchens of Gerald Printing for making this project happen.
Huge thanks to Brandon Sanspree… I'm very pleased to announce Green River Gun Club will be hosting the ARA Factory Class STATE TOURNAMENT this year! This event will bring shooters from across Kentucky to our facility. Let's pull together and work to make a first rate impression on the entire State!
Stephen Summers
President
---
I called 643 Monday to verify reservations and the recording indicated they had an employee test positive for Covid and had shut down again. Consequently, no general membership meeting in July. Deborah has financials and I'm preparing an update for everyone. We'll get those emailed out this week.
Stephen Summers
President
---
Really? You couldn't carry your targets and handguns those 21 feet? You couldn't choose a bay with sod instead of fresh dirt? You really just got in your vehicle and left without any attempt to repair?
To those of you that ask why we can't leave steel targets or target stands out for the members….. This is why.
Stephen Summers
President
---
Progress continues on the pistol bays. The EC has awarded the contract on footers for the metal carports at the rear of the bays. The contractor will be starting late next week. The pistol bays will not be closed, but please respect that Wes and his crew are there working. Simply choose a bay as far away as possible or shoot on the Main Range while they're working.
Stephen Summers
President
---
If there are any GRGC Members with an interest in ARCHERY, please text me at 270-535-5892. I'd like to host a meeting to discuss possibilities at GRGC.
Stephen Summers
President
---
We had a fantastic turnout for work day this morning. 12 volunteers went up the hill and when they came down….the Club now has a 400 yard target rack set in concrete. A special mention goes out to Keith Gameson, without his Polaris Ranger the job would have been much more difficult to accomplish. Once the concrete has a chance to set up Ben Cole will hang the targets. Everything should be complete mid week.
---
TUESDAY JUNE 9: The Club will be COMPLETELY CLOSED for maintenance from 7:00 AM until 1:00 PM.
Stephen Summers
President
---
Next Sunday, the 14th, 9:00 AM is work day. Given the very positive response to opening up the 400 yd targets, I'm specifying that as our focus. Ben and I will have the top frame ready and the side posts/concrete on site. We need people to dig the holes and set the posts in concrete. Then put the top piece on.
We need:
Battery drill drivers
Manual post hole diggers
Shovel
5 gallon water jug
Small chain saw
Level
Four wheeler and/or gator/mule type quad
Sign up to help below or text me directly.
Stephen Summers
President
---
The tile projects are nearing completion. Opening the hill up to the 400 yard gongs should be complete tomorrow. All that remains are the surface repairs to the road on the hill and between Rimfire and Main/Cowboy Ranges. Contractor still has 2 dozers, 2 track hoes, 2 dump trucks and the skid steer on site. He's making an all out effort to finish everything tomorrow before Orientations Saturday and Steel Challenge Sunday.
---
The trap range at GRGC is open again! Mondays starting at 5:00 PM members and the public are welcome to come shoot practice trap. $5.00 per round (25 targets) cash or check only.
---
Tuesday, June 2nd, at some point in the day the road contractor will be installing a catch basin and tile near the dumpster just inside the entrance gate. This will permanently eliminate the persistent large/deep potholes in that area. There is no alternative route at this particular point, so the road will be completely closed for a couple of hours.
---
The June General Membership meeting is cancelled. With restaurants at 1/3 capacity, and 6 feet between patrons, having the meeting is out of the question. Watch your email next week for a club update and financial report.
---
Stephen Summers
President
A reminder that the last few invitations to join for 2020 were mailed out over 10 days ago. You only have until close of business Saturday to come by Mammoth Outdoors and pay your dues/fill out your information sheet. The final New Member Orientation session is scheduled for Saturday June 6, 9:00 AM on the Main Range.
Stephen Summers
President
---
Y'all aren't going to believe the changes that are about to take place at GRGC… The pistol bays will be longer and much more member friendly, 2 Gun now has a 150 yard stage in bay five for rifles, entrance is getting a face lift, extensive road work next week….

Stephen Summers
President
---
5-20-20
The EC has lifted it's ban on public matches effective June 1, 2020. Match Directors can host matches at their discretion. Obviously this assumes guidelines don't change from the Commonwealth of Kentucky. Please practice social distancing that we've all become accustomed to. Please provide hand sanitizer at signups.
The trap range at GRGC will re-open Monday June 1st at 5:00 pm.
Effective June 2, 2020 the Gale Stiles and Rimfire Ranges will be totally closed to member use every Tuesday from 4:00 PM til dark. Warren County 4H Shooting Sports uses these ranges every Tuesday until the second week of September. Please use the Main Range for member activities during this time.
Match Directors, please check your email this evening for some important announcements regarding GRGC.
Stephen Summers
President
---
NEW MEMBER ORIENTATIONS:
We are going into our third, and final, week of multiple orientation sessions. There are still 50 people that need to attend one of these sessions. We are signing people up through our Facebook page. If you do not Facebook, please call me at 270-535-5892 and I'll sign you up. Sessions are Sunday 9-10-11:00 AM, and 1:00, 1:45 or 2:30 PM. Tuesday or Thursday 10:00 AM and 5:00 PM. This will be your only remaining options to get your key in May.
Stephen Summer, President, 270-535-5892
Mammoth Outdoors, LLC, 4848 Scottsville Rd, Bowling Green, KY 42104, 270-904-3486
---
The Executive Committee hereby announces the unanimous passage of the following:
Green River Gun Club remains OPEN to member use as usual. However, all Public Matches, Trap Practice nights, the Nora Ross Shooting Clinic and the large consolidated New Member Orientations are cancelled for the month of May.
Just because we're closed to public events doesn't mean our club has stopped moving forward. IDPA has significantly cleaned up the Gale Stiles Range. Cowboy Action is expanding and building virtually every weekend. The new parking area adjacent the Gale Stiles and Rimfire Range has been installed. The three remaining target backers on the Main Range should be replaced next week. The support pole damage at Main Range is being dealt with. A new system has been announced for getting New Members fully into the Club. Progress is still being made weekly.
---
NEW MEMBER ORIENTATIONS:
New Members please go to our Facebook page. You'll find dates and time slots there so you can sign up for Orientations in groups of less than 10 people. Times are available during the day, after normal work hours and on the weekend in an effort to get you into the Club as conveniently and timely as possible. If you don't FB, please ask a friend or relative that does to sign you up. It's simple & will take less than 5 minutes. As an absolute last resort, you may call me at 270-535-5892 and I'll sign you into a slot. We have 160 New Members to orient in as short a period of time as possible. Please make every effort to sign yourself into a slot. The Executive Committee has waived the Match Observation and Match Participation requirements for new members in member year 2020. You'll leave orientation with your key and be a full member that day.
Stephen Summers -President (270-535-5892)
Mammoth Outdoors, LLC 4848 Scottsville Rd. Bowling Green, KY 42104 (270-904-3486)
---
Clearly Kentucky isn't going to meet the 2 week decline requirement to open back up before the May meeting. Consequently I'm cancelling the May General Membership Meeting. The Board will take up the issue of public matches in May later this week. Please watch here and the new website for an announcement soon.
Stephen Summers
President
---
We're working on contingency plans now in case the May New Member Orientations must be cancelled. There's no indication yet that will be the case. But, if it is, we will make every effort to get the new members in during the month of May regardless. We apologize for the delay and appreciate your patience. We're all sailing uncharted waters right now, but will make every effort to get you in as quickly as possible.
——————————————————————————————————–
The Executive Committee of Green River Gun Club has reviewed the Commonwealth of Kentucky Executive Order 2020-215 and the CDC Social Distancing Guidelines to which the EO refers. We have found the following announcement is necessary:
The Executive Committee hereby cancels all Public Matches, Monday night trap shoots and New Member Orientations through the end of April 2020.
New Member orientations are tentatively rescheduled for Sunday May 03, Saturday May 23 and Sunday May 31, 2020.
Please check here and on the Facebook page in mid-April for updates regarding May matches and New Member Orientations.
We are NOT closing the club to regular member use, however we do ask that you comply with the following minimum standard guidelines or more when using the facility:
Do not congregate in large groups. The CDC Recommends less than ten people in proximity to one another. Fewer is much better.
Take extra precautions after using the gate lock.
Avoid the use of the port-a-potties if possible.
We are volunteer run and don't have staff routinely cleaning these items/areas.
Stephen Summers,
President
Single Action Shooting Society Matches
Founded in 2005, the Green River Gunslingers are hosted by the Green River Gun Club located in Bowling Green, KY. We are a SASS affiliated club, with matches conducted using SASS rules. We shoot the second Saturday of each month with signup at 9 AM, and we start the Match with a Safety Briefing at 10:00. Scores are emailed to shooters after each match